Nalin Alpaydın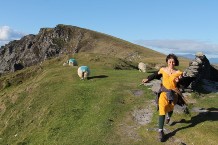 From the Middle East Technical University, Turkey
Studied Philosophy at University of Galway, January - May, 2019
"Galway was a city of amazing people for me. By that I mean people who try to have an alternative way of living, people who care about their nature, their well-being and their species. My first month was a bit difficult in terms of getting into the social life of Galway because I was stuck in my head trying to have an "objective" way of looking to the locals. However, once I got through that point and tried to be a local myself, it became a truly amazing experience. People were so nice to me. Galway's scenery was giving me its best moments. Salthill promenade was absolutely mesmerizing. All the seagulls, little flicky-taily birds, that amazing cat I was running into when I went to sit on the rocks, walking on the beach when it was low tide.
"University of Galway has a beautiful campus, great clubs and societies and amazing philosophy lecturers. I was not a very great student during my time there because I was busy living Galway life ;-) yet I know they are very knowledgeable from their answers to my few questions.
"I loved every second of my experience. Ireland is such a beautiful country; such lovely people are living there."