SHANNON COLLEGE OF HOTEL MANAGEMENT TACKLES MENTAL HEALTH TOPIC AND BEAT ALL OF EUROPE
Shannon College Students tackle mental health topic and win!
Mar
05
2019
Posted: 13:41 GMT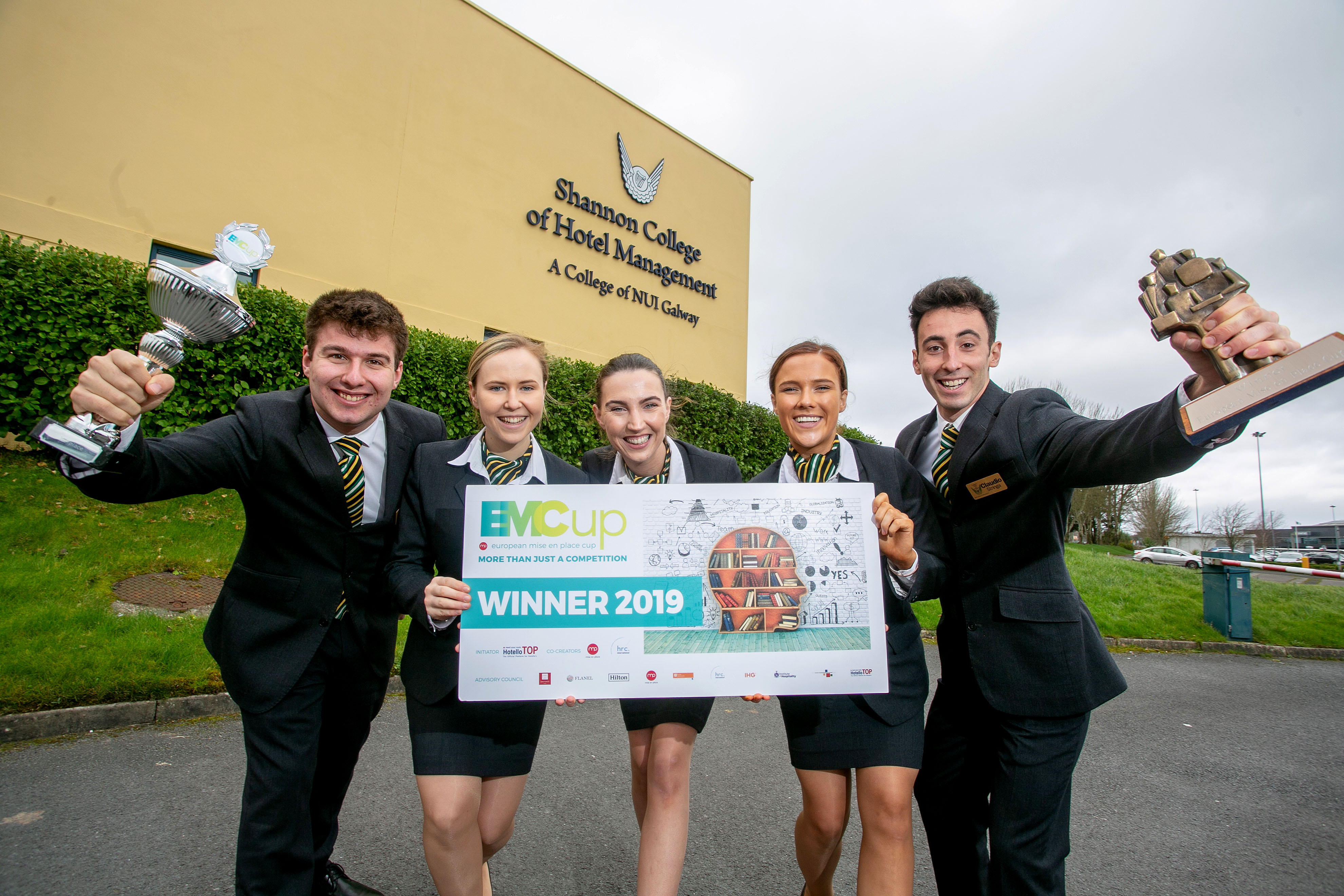 SHANNON COLLEGE OF HOTEL MANAGEMENT TACKLES MENTAL HEALTH TOPIC AND BEAT ALL OF EUROPE
A team of five Third Year students from Shannon College, A College of NUI Galway, have won the prestigious European Mise en Place Cup (EMCup), which pitches European hotel management colleges against each other in a range of business challenges. Daniel Czukor (Budapest, Hungary); Ciara Downes (Kilmihil, Co. Clare); and Anna Hevers (Rochestown,
Cork); Niamh O'Neill (Enniscorthy, Co. Wexford) and Claudio Stringa (Milan, Italy), along with their coaches Celine Ryan (Cooleyhenan, Limerick) and Kristin Horan (Sixmilebridge, Clare), travelled to Maastricht, the Netherlands to take part in the two day competition . The team, named Shannon's Duty, prevailed. They won four prizes - including first place overall - with their ideas on improving mental health awareness and training in hotel management education.
The EMCup is an annual competition of the leading Hotel Management schools in Europe. This year saw 36 international Hotel schools from 15 countries compete. Students shared their ideas on the theme "Get Real… Education – Old School vs. New School", focusing on the current curriculum and their visions for the future in Hotel Management education. The students were judged by a Business Jury, consisting of more than 80 hospitality professionals representing over 44 different companies.
The teams of students completed several assignments prior to the competition. These included setting up a social media campaign to increase brand awareness on the EMCup and its theme; and submitting an academic paper detailing their vision for the future of hotel management education.
During the competition, the teams began by presenting their academic paper and then working on a case which they presented as well. These elements were part of the ranking of the top 18. The top 18 then battled head to head in live debates and the winners – the top 9 – got the opportunity to elaborate on their case and present their ideas to a large audience on stage at MECC Maastricht.
In their paper and initial pitch, Shannon's Duty proposed the addition of modules to Hotel Management courses that are specifically designed and dedicated to stress management strategies. Team Captain Niamh O'Neill explains why they chose the topic. "Hospitality is a sensational career, it is both motivating and stimulating: there are days it can take your breath away. On the other hand, hospitality is a tough industry, which sometimes does not get recognised. It can be physically and psychologically exhausting. We chose this topic because we want our future hoteliers not just to take care of their guests, but first to take care of themselves."
"To see an idea such as mental health and wellness for students and staff in hospitality being prioritised and voted for by academics and business jury members over finance ideas and IT concepts is so encouraging. The EMCup sets out to challenge people and get the best from them, and all involved have been made a little bit better for having been a part of it all." (Celine Ryan)
In addition to winning the competition overall, Shannon College captured Best Team Photo; Best Pitch – Case; and Best Debate. "We are so proud of the students. Shannon's Duty have been working diligently on the EMCup project outside of class time - in addition to their normal coursework- since September. I believe their detailed preparation, and the combination of their distinctive idea and ability to engage and inspire the Business Jury, Academics and the other teams attending are what earned them the win." (Kristin Horan)
"Our programmes, which emphasize business and professional training, combined with lengthy placements, have prepared our team to take on the best in Europe and win. We are so proud!" (Dr. Phillip Smyth – Head of College)