Professor Pat Dolan, UNESCO Chair in Children, Youth & Civic Engagement
The UNESCO Chair in Children, Youth & Civic Engagement, the first in the Republic of Ireland, was awarded to Professor Pat Dolan at the National University of Ireland, Galway in 2008.The UNESCO Chairs programme, part of the UNESCO University Education and Twinning Programme, advances research, training and programme development in all of UNESCO's fields of competence by building university networks and encouraging inter-university cooperation through the transfer of knowledge across borders. Professor Dolan conducts a programme of work within and supported by the UNESCO Child and Family Research Centre (UCFRC) that spans a range of global partnerships involving universities, NGOs, international agencies and youth organisations encompassing research, education, and policy development activities.
Background
Professor Dolan has worked with and for families as a practitioner, service manager, and academic for over 35 years. He has completed an extensive body of research on family issues including longitudinal research on adolescents, their perceived mental health, resilience and social support networks and has published in a wide range of academic publications. His major research interests are Civic Engagement in Children and Youth, Family Support, Reflective Practice and Service Development, Youth Mentoring Models, Empathy Education, Prevention of Youth Radicialisation, Adolescents Resilience and Social Networks.
The mission of the NUI Galway Chair is to promote an integrated system of research, training, information and documentation in the field of children, youth and civic engagement. In this capacity, the NUI Galway UNESCO Chair has acted as a 'bridge-builder' by bringing together centre's of excellence, NGOs and practitioners from around the world to work as partners in setting future education, research and policy agendas. The engagement with UNESCO provides a unique platform for facilitating collaboration between high-level, internationally recognised researchers and institutions which enables the UCFRC to influence and inform global policy for families and youth. The University of Galway UNESCO Chair is part of a Global Network of UNESCO Chairs on Children, Youth, and Communities.
The Chair is a board member of Our Voices University Network OVUN, a global network of multi-disciplinary researchers from universities and (I)NGOs committed to ethical, child-centred research and response efforts for children and young people affected by sexual violence,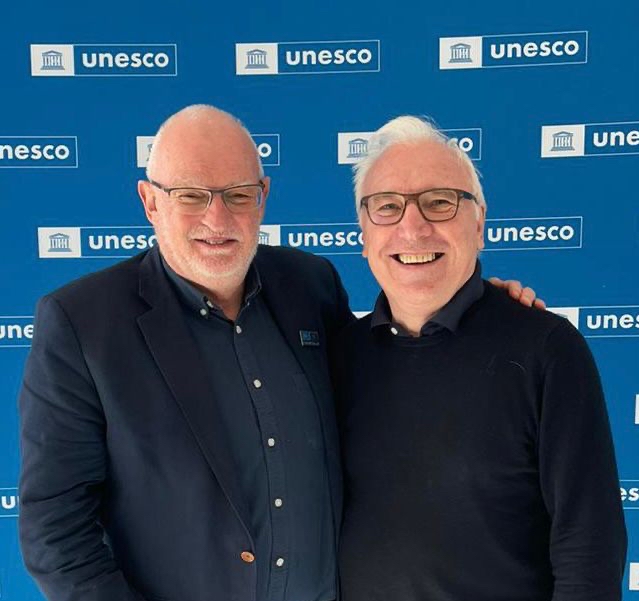 ‌‌
Pictured at the 30th Anniversary of the UNITWIN/UNESCO Programme at UNESCO HQ in Paris with Professor Emeritus Alan Smith UNESCO Centre at Ulster University in Northern Ireland, October 2022.