Discussion of key messages and recommendations from the Crisis Coping Project
Date Released: 15 August 2022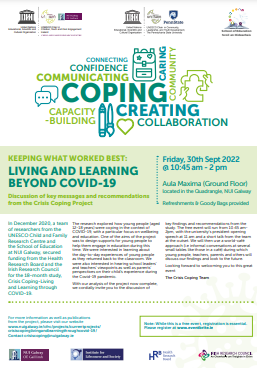 KEEPING WHAT WORKED BEST: LIVING AND LEARNING BEYOND COVID-19
Discussion of key messages and recommendations from the Crisis Coping Project
Friday, 30th Sept 2022, @ 10:45 am - 2 pm
Aula Maxima (Ground Floor) located in the Quadrangle, NUI Galway
Refreshments & Goody Bags provided.
In December 2020, a team of researchers from the UNESCO Child and Family Research Centre and the School of Education at NUI Galway, secured funding from the Health Research Board and the Irish Research Council for the 18-month study, Crisis Coping-Living and Learning through COVID-19.
The research explored how young people (aged12-18 years) were coping in the context of COVID-19, with a particular focus on wellbeing and education. One of the aims of the project was to design supports for young people to help them engage in education during this time. We were interested in learning about the day-to-day experiences of young people as they returned back to the classroom. We were also interested in hearing school leaders' and teachers' viewpoints as well as parents' perspectives on their child's experience during the Covid-19 pandemic.
With our analysis of the project now complete, we cordially invite you to the discussion of key findings and recommendations from the study. The free event will run from 10:45 am to 2pm, with the university's president opening speech at 11 am and a short talk from the team at the outset. We will then use a world-café approach (i.e informal conversations at several small tables like those in a café) during which young people, teachers, parents and others will discuss our findings and look to the future.
Looking forward to welcoming you to this great event
The Crisis Coping Team
Note: While this is a free event, registration is essential at https://www.eventbrite.ie/e/402295786527
For more information as well as publications from the project, please visit our website here.
Contact crisiscoping@nuigalway.ie
‌