Researchers launch research report on language, terminology and representation related to institutions
Date Released: 24 February 2023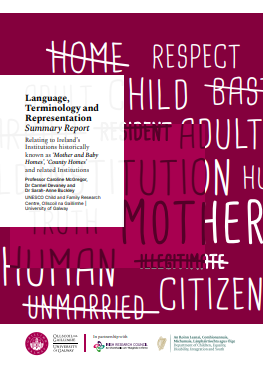 Researchers launch research report on language, terminology and representation related to institutions
Government, media, professionals, churches and the public can learn how to avoid stigmatising and compounding hurt
Friday February 24, 2023: Researchers at University of Galway have compiled a report on terminology and language associated with institutions historically known as "Mother and Baby Homes", "County Homes" and related institutions.
The project sets out guidance for those in power - including government departments, professionals, the media, the churches - and for the general public in relation to education, awareness, and actions which can be taken in response to hurt and offence caused and learning for the future.
The research project - Language, Terminology and Representation Relating to Ireland's Institutions Historically Known as 'Mother and Baby Homes', 'County Homes' and Related Institutions - was undertaken by researchers from the UNESCO Child and Family Research Centre at University of Galway.
The report states: "Changing how we use language and terminology and radically reviewing how past experiences have so often been misrepresented will not in itself achieve the justice so many people still need regarding their experiences in institutions run by state and church, together or in parallel. However, such change represents one of many steps needed to achieve historical justice."
The project was commissioned through the COALESCE Irish Research Council Funding scheme and jointly funded by the Department of Children, Equality, Disability, Integration and Youth. It is a direct response to recommendations made in the first report of the Collaborative Forum of Former Residents of Mother and Baby Homes and Related Institutions in relation to language, terminology and representation. The study is also part of the Government's response to the Final Report of Commission of Investigation into Mother and Baby Homes.
The purpose of the research was to build on the work of the Collaborative Forum to highlight the need for special attention in relation to the use and misuse of language, terminology and misrepresentation related to the former institutions.
Based mostly on the testimonies of people who have direct experience of the institutions, either as mothers or from their childhood, the report provides guidance to tackle and eradicate the use of stigmatising language like "unmarried mother" and "illegitimate child" which still causes hurt and offence today even though no longer officially in use.
The study identified many other words that should not be used like describing the institutions as "homes" or people who spent time there as "residents".
The study found terminology of "victim" and "survivor" very contested and complicated, with some people identifying with this and others finding it offensive. Many saw the need to have an alternative terminology, with one suggestion referring to persons as "separated" using the Gaelic term "scaradh" and the word "citizen" promoted as a more acceptable term.
Highlighting the complex and diverse views of people, many different words that are used to describe mothers, and those who spent time in institutions in their childhood, are criticised.
The report has many examples of how use and misuse of stigmatising language by those in power has such an impact and needed to be changed. It shows how those with power to influence often misrepresented, disrespected and reinforced stigma by their use of language.
Welcoming the launch of the report, authors Caroline McGregor, Carmel Devaney and Sarah-Anne Buckley commended the participants who contributed to the study.
Professor Caroline McGregor said: "Participants who contributed to this research project have given us unique and in-depth understanding of the power of words and the hurt they can cause. As one person put it: 'words are like weapons'. We thank all of the participants and steering group members especially the collaborative forum representatives for their significant contribution to this project."
Dr Sarah-Anne Buckley said: ""Unfortunately, there is nothing we can do to change past experiences but there is a huge amount we can do in the present to acknowledge the trauma and stigma still imposed on individuals through the use of stigmatizing language and historical labels."
Dr Carmel Devaney said: "As highlighted in this report, listening, being mindful about how we speak, and taking affirmative action based on what we hear or read is a responsibility for all. We hope this research will be widely used to inform the use of more appropriate language, terminology and representation in the future."
The report is available here.