IONBHÁ: The Empathy Book For Ireland
Date Released: 10 October 2022

‌
The UNESCO Child and Family Research Centre,
University of Galway
IONBHÁ: The Empathy Book For Ireland
Edited by Cillian Murphy, Pat Dolan, Gillian Browne & Mark Brennan
Book Launch
Saturday 8th October 2022 - 4:30PM

The Hogan Suite, Croke Park Conference Centre, Dublin
IONBHÁ: The Empathy Book For Ireland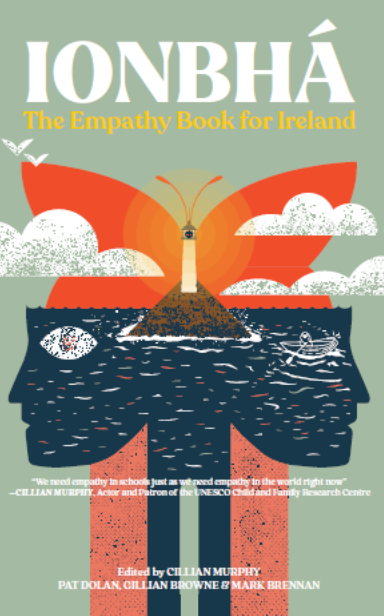 All of us wonder what we can do to make life better in a world that seems so complex, challenging and, at times, difficult. This book reminds us that no matter how big or small, acts of empathy and kindness have massive impact. We may not always be aware that compassion deeply affects people and communities, but it reverberates long after we act. Empathy goes beyond simple 'feel good' moments. It is a core element of wisdom and a universal language of the soul.
For over ten years, Irish actor Cillian Murphy has worked closely as patron of the UNESCO Child and Family Research at the University of Galway. He is committed to helping to ensure that empathy education is provided at all levels – through schools, community organisations, adult education settings. As he says, 'Empathy is about connection' and 'it can bring connection in a disconnected world'. The wide range of contributions to Ionbhá act like a compass, guiding us on things that really matter in life. These reflections illuminate the healing power of empathy and vividly open our eyes to the countless ways in which it shapes all of us.
'As we write a new chapter in our nation's history, Ionbhá is an important and timely book with the potential to play a critical role in the creation of a more compassionate Ireland'
– PRESIDENT MICHAEL D. HIGGINS
'Without empathy, there is no love, no art, no democracy, no true society. This inspiring and life-affirming book helps us to understand not just what empathy is but how we can learn to practice it in our everyday lives'.
– FINTAN O'TOOLE, THE IRISH TIMES
'This book shows how empathy across society is an anchor of humanity dignity and human rights'.
– NADA YOUSSEF A. AL NASHIF, UN DEPUTY HIGH COMMISSIONER FOR HUMAN RIGHTS
'Empathy can end bullying, hate speech and racism. Building empathy boosts school performance and community engagement. This isn't just opinion – these claims are backed by decades of scientific research. Teaching empathy is just as important as teaching maths'.
– ACTIVATING SOCIAL EMPATHY RESEARCH TEAM
100% of royalties from the book will go directly to delivering the Activating Social Empathy education programme in Irish schools and youth work organisations.
Press Coverage:
https://www.irishtimes.com/health/your-wellness/2022/10/08/cillian-murphy-we-need-an-empathy-revolution/
https://www.rte.ie/radio/radio1/clips/22155369/
https://www.independent.ie/life/actor-cillian-murphy-our-patron-and-friend-has-been-incredibly-supportive-and-this-has-culminated-in-ionbha-42020576.html
https://www.newstalk.com/podcasts/highlights-from-newstalk-breakfast/the-importance-on-empathy