MA, PDip (Child, Youth and Community), Information Session and Live Q&A
Date Released: 28 March 2022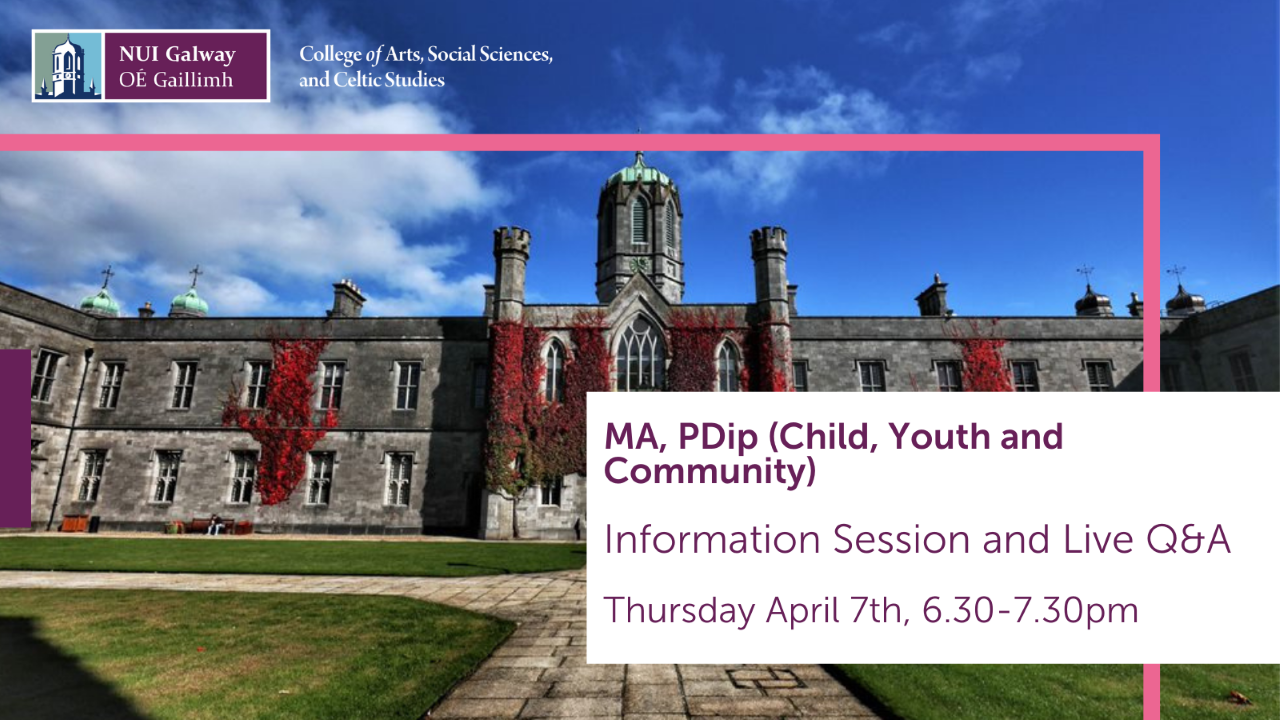 Join us for Information Session and Live Q&A
MA, PDip (Child, Youth and Community)
with
Programme Director – Dr Danielle Kennan
Thursday April 7th, 6.30-7.30pm
To register your place please visit: https://www.eventbrite.ie/e/308685876767
Join Zoom Meeting
https://nuigalway-ie.zoom.us/j/94203507321?pwd=VDJBTXlScFpVbitZQUthUUF5N1dPZz09
Meeting ID: 942 0350 7321
Passcode: 464964
The Discipline of Applied Social Science in the School of Political Science and Sociology in NUI Galway is delighted to offer an MA/PGDIP in Child, Youth and Community with a focus on programme planning and evaluation. This one year full-time / two-year part-time blended learning Programme, will enable students to be proficient in programme planning and evaluation methodologies in the context of child, youth and community services. The MA/PGDIP was developed by the UNESCO Child and Family Research Centre at NUI Galway.
Why this MA?
The MA provides students with the opportunity to develop skills-sets that are in high demand. It is designed to respond to the needs of a funding dependent sector and meet the growing national and international donor requirement, to comply with rights-based approaches and provide scientific, robust evidence to measure the impact of social interventions.
Students who participate in this programme will:
Build their knowledge and practical skills in programme planning and research evaluation;

Critically explore new lines of research and the use of research evidence in practice;

Develop their capacity to design and deliver human rights based and culturally sensitive programmes and services;

Develop their capacity as leaders in this field;

Enhance their skills in communication and innovative thinking;

Avail of professional experience and networking opportunities.
Who is the Programme Designed for?
The Programme is designed for professionals already working in the child, youth and community sector and/or for those who have an understanding of the lives of children and youth and communities who wish to acquire a specialised Level 9 qualification which will add value to their existing qualifications and enable them progress to leadership roles within their careers.
The flexible and blended approach to learning makes it accessible to students from across Ireland and internationally.
Entry Requirements
Applicants will require a NQAI Level 8 degree, Second Class Honours, or equivalent, with a 2:1 in child, youth and family studies, sociology, psychology or a cognate discipline.
For further information see: http://www.nuigalway.ie/courses/taught-postgraduate-courses/child-youth-and-community.html

Applications are made online via: https://nuigalway.elluciancrmrecruit.com/Apply/Account/Login
Please don't hesitate to contact us if you require any further information.
Course Director – Dr. Danielle Kennan: danielle.kennan@nuigalway.ie