UNESCO Child and Family Research Centre, NUI Galway, 10th Biennial International Conference 9-10 June 2022
Date Released: 21 March 2022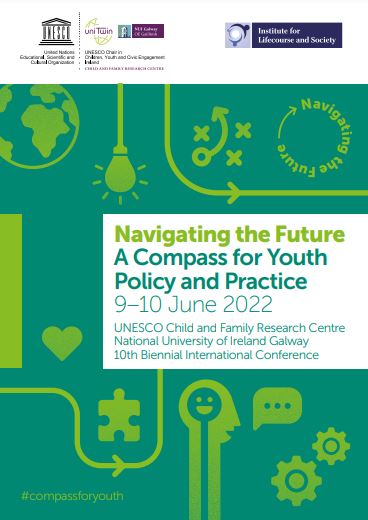 UNESCO Child and Family Research Centre
10th Biennial International Conference

9th & 10th June 2022
Institute for Lifecourse and Society, NUI Galway
Navigating the Future: A Compass for Youth Policy and Practice
Bookings and Registration:
Places are limited please book early to avoid disappointment. Book your place here.
Conference Theme:
The current generation of youth is coming of age in a period of unprecedented global change, due to the combined effects of the Covid-19 pandemic, technological developments, migration and globalisation. In this conference, we aim to reflect on trends, challenges and options for the current and future experiences of young people. Our core question is how can policy and practice strengthen youth agency, inclusion and development in a rapidly changing world? The conference will draw on international and national expertise and evidence. Provisional themes and topics to be addressed in keynote presentations and parallel sessions will include mental health and wellbeing, relationships and belonging, youth participation and activism, technology, diversity and inclusion and youth work.
Parallel Sessions:
We will have presentations from the practice, policy, research and academic communities in relation to the conference themes, which are as follows:
• Mental health and wellbeing
• Relationships and belonging
• Youth participation, civic engagement and activism
• Technology
• Diversity and inclusion
• Youth and/or family work
Conference Brochure:
Please see attached for full Conference brochure.
Keynote Speakers:
Mr Sean Campbell, CEO of Foróige, Ireland
Professor Pat Dolan, UNESCO Child and Family Research Centre, National University of Ireland Galway, Ireland
Dr Danielle Kennan UNESCO Child and Family Research Centre, National University of Ireland Galway, Ireland
Professor Alfgeir L. Kristjansson, West Virginia University, USA
Professor Sonia Livingstone, London School of Economics and Political Science, UK
Dr Muireann Ní Raghallaigh, University College Dublin, Ireland
Professor Swaran Singh, University of Warwick, UK
Professor Renée Spencer, Boston University, USA
Special Guest: Tolü Makay
Tolü Makay, singer, songwriter, and performer has ascended in becoming one of Ireland's leading creative voices after releasing her first EP 'Being' in 2020 which provided positivity in a year that felt never-ending. Soon after followed the huge success of her rendition of the classic Saw Doctors song 'N17' accompanied by the RTE Concert Orchestra which made her the highest ever charting female solo artist in Ireland. Following an array of stirring TV appearances where she performed on Other Voices, The Late Late Show and The Tommy Tiernan Show, 2021 concluded with a sold out tour of Ireland including a headline performance at Vicar Street. Topping off a substantially meaningful twelve months Tolü, was recognised by Irish Tatler Woman of The Year for music and Best Female Artists at Black & Irish. The future looks golden as she prepares for her debut album.
For regular Conference updates please visit https://nuigalwayunesco.clr.events/event/131757#
Important Dates:
Notification of Abstract Acceptance
April 1st, 2022
End of registration at a reduced fee
April 11th, 2022