NCCA Council Appointment
Date Released: 31 January 2022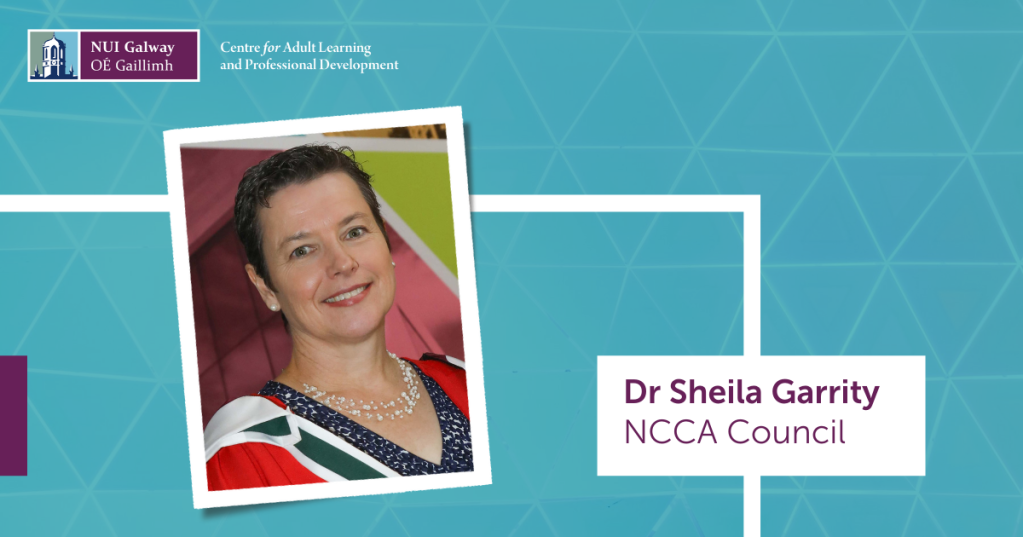 We are pleased to announce that Minister for Education, Norma Foley has appointed our colleague Dr Sheila Garrity of NUI Galway, to the NCCA Council as the nominee of Roderic O'Gorman, Minister for Children, Equality, Disability, Integration & Youth.
In her correspondence to Dr Garrity, Minister Foley stated that "the work of the Council is vitally important in ensuring that the curriculum in schools maintains its relevance and quality in a changing environment, and lays the foundation for successful learning, social inclusion and competitiveness in today's knowledge society".
In taking up the role, Dr Garrity, Academic Director of the part-time MA and BA in Early Childhood Studies here at the Centre for Adult Learning and Professional Development and Senior Researcher with the UNESCO Child & Family Research Centre, NUI Galway, said, "I'm honoured to accept this nomination to the Council. The work of the NCCA over the years has raised awareness of the crucial role of the early years of a child's educational experience, through the pioneering work in developing and implementing Aistear, the Early Childhood Curriculum Framework. I hope to bring my knowledge and expertise to the Council to support the exciting developments underway at the pre-primary, primary and post-primary levels of our education system. Many of the concepts, theories and values underpinning progressive educational approaches transcend the age of the child or the learning context and I look forward to rich conversations with fellow Council members."
"This appointment to the NCCA council is timely as we have seen a number of welcome measures outlined in Budget 2022 which assists parents in attaining quality early years provision for their children", highlights Nuala McGuinn, Director, Centre for Adult Learning and Professional Development.
In her role as academic director, Dr Garrity has highlighted the critical role that high quality early education plays in the daily lives of children and families and how the provision of such services in turn leads to better social and economic outcomes for families and society. She has supported the professionalisation of the sector and the need to adequately remunerate educators for the invaluable service that they offer.
We wish Dr Shelia Garrity the best of luck in her new appointment commencing in November.