Professor Pat Dolan: D'Arcy McGee Beacon Inaugural Fellowship Lecture | April 20th, 6pm
Date Released: 29 March 2021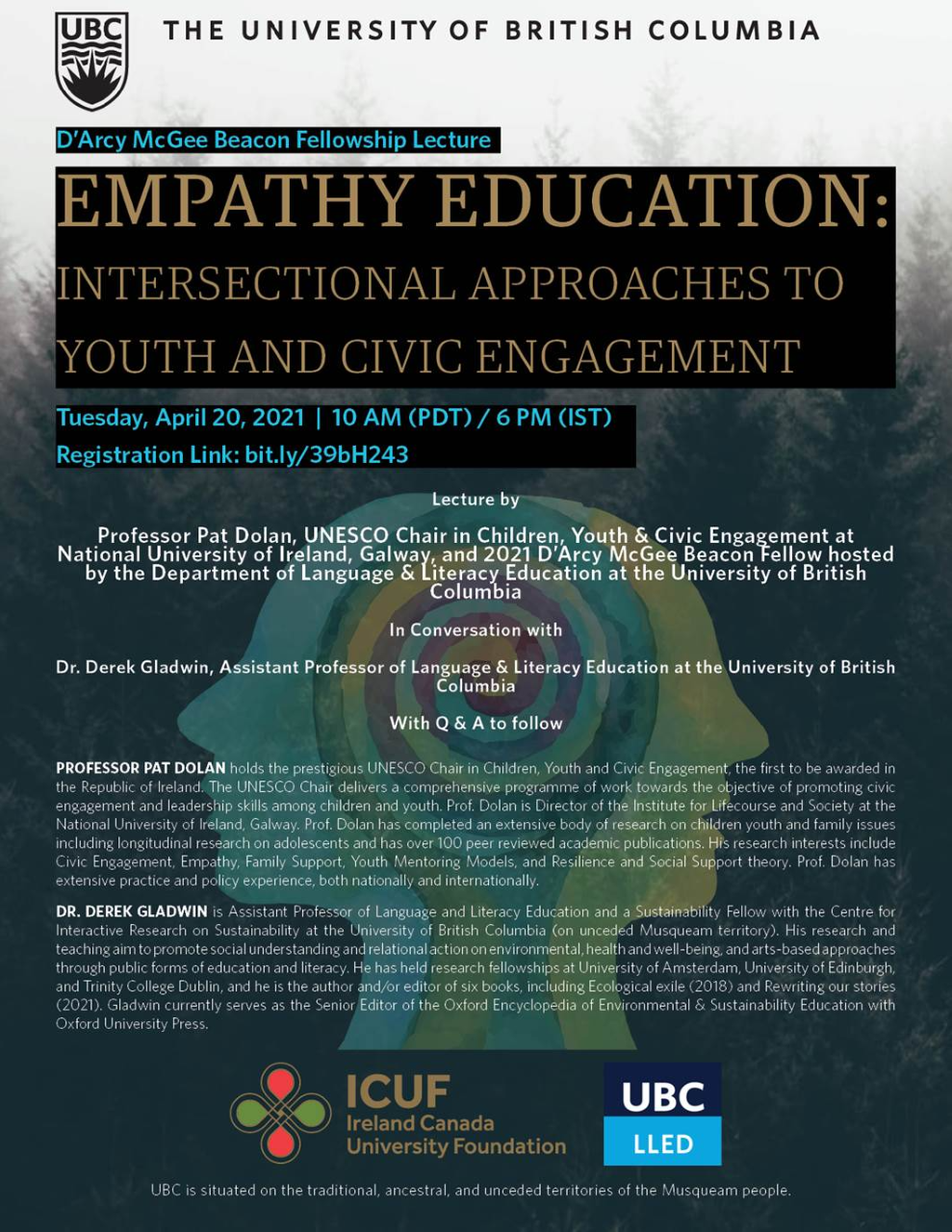 D'Arcy McGee Beacon Fellowship Lecture:
Empathy Education: Intersectional Approaches to Youth and Civic Engagement
Date and Time: Tuesday, April 20th | 10AM (PDT) / 6PM (IST)
Presenter: Professor Pat Dolan, Dr. Derek Gladwin
Registration: https://ubc.ca1.qualtrics.com/jfe/form/SV_25MXUlVaLt9ojEq
Speakers and Format:
Lecture by Professor Pat Dolan, UNESCO Chair in Children, Youth & Civic Engagement at National University of Ireland, Galway, and 2021 D'Arcy McGee Beacon Fellow hosted by the Department of Language & Literacy Education at the University of British Columbia

In Conversation with Dr Derek Gladwin, Assistant Professor of Language & Literacy Education at the University of British Columbia

With Q & A to follow

Description:
While the evidence for empathy education as an enabler for youth civic engagement is gaining momentum, the mechanisms for this connection are less known. Using an intersectionality theoretical framework, the connections and opportunities for youth across formal (school) and non-formal (community) education systems, through methodologies including youth as researchers/peer learning, arts, sport and literature as components of empathy education are explored. These methods are then woven to known frameworks for youth civic engagement including political and social justice participatory models. Finally, an emergent connection between affective empathy in youth and social support enlistment will be highlighted.
For more information, please see the attached poster or visit the event page.