Book launch: Narrating Childhood with Children and Young People: Diverse Contexts, Methods and Stories of Everyday Life
Date Released: 5 March 2021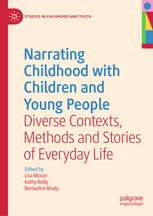 Book launch:
Narrating Childhood with Children and Young People: Diverse Contexts, Methods and Stories of Everyday Life
This event brings together scholarly and practitioner audiences from Edge Hill University and beyond (e.g. UK, EU, US, Australia) to launch Narrating Childhood with Children and Young People: Diverse Contexts, Methods and Stories of Everyday Life.
This event discusses the importance of young people's voices to policy, practice, and research, facilitating commentary and debate about the significance accorded to children's everyday experiences and storytelling. It is of significance therefore to non-academic and academic audiences working with children and youth and those who are interested in sociology, social work, social care, teaching, youth work and other professions.
Narrating Childhood with Children and and Young People: Diverse Contexts, Methods and Stories of Everyday Life.
This co-edited volume draws together scholarly contributions from diverse, yet interlinking disciplinary fields, with the aim of critically examining the value of narrative inquiry in understanding the everyday lives of children and young people in diverse spaces and places, including the home, recreational spaces, communities and educational spaces.
Incorporating insights from sociology, geography, education, child and youth studies, social care, and social work, the collection emphasises how narrative research approaches present storytelling as a universally recognizable, valuable and effective methodological approach with children and young people.
The chapters point to the diversity of spaces and places encountered by children and young people, considers how young people 'tell tales' about their lives and highlights the multidimensionality of narrative research in capturing their everyday lived experiences.
---
Date: Wednesday 14th April 2021
Programme:
3.00pm Event start
4.00pm Event close
Venue: Online (a secure link will be distributed following registration).
Registration: This event is FREE but please click here to register your place.
Speakers:
Prof Kirsi Paulina Kallio

Kirsi is professor of environmental pedagogy at Tampere University, Finland. Her research interests form around the human subject as a constantly developing political being with capacities to act, and relational political space that actualizes contextually in the form of communities and societies with various scalar dimensions. Her current interdisciplinary work focuses on refugeeness (as an experienced and governed condition), humanitarian border (as a topological constellation), relational age (from the perspective of youthful political agency and intersubjective spatial socialization) and lived citizenship (in the city-regional scale and as environmental agency). Kirsi is also actively involved in development projects where the perspective of Positive Recognition, based on co-creative research, is put into practice and further developed in different professional contexts, currently environmental pedagogy and climate education. She is part of the Space and Political Agency Research Group (SPARG).
Dr Virginia Morrow

Ginny Morrow is Visiting Professor at UCL Social Research Institute, and Research Associate, Young Lives, Department of International Development, University of Oxford. She was Young Lives' Deputy Director from 2011 to 2017. Previously she held academic positions at the University of Cambridge, London School of Economics, Brunel University and the Institute of Education, where she was programme leader of the MA Sociology of Childhood and Children's Rights, from 2004 to 2010. Her research focuses on children's work, violence affecting children, sociological approaches to the study of childhood and children's rights, the ethics of social research with children, children's understandings of family, and children and 'social capital'. She has published extensively and has been a member of numerous Advisory Groups and Research Ethics Committees. She also acts as Ethics Advisor on research projects. She was a co-editor of Childhood: A Journal of Global Child Research from 2006 to 2016.
Prof Rachel Thomson

Rachel is Professor of Childhood & Youth Studies in the School of Education & Social Work at the University of Sussex. She is a sociologist and feminist researcher interested in everyday lives, time, lived experience the remaking of inequalities and solidarities. She has undertaken collaborative empirical research into everyday childhoods in a digital age, inventing adulthood and making modern motherhood. Her current research revisits a 1980's study of young sexualities, 'reanimating' archived interviews as a strategy for co-producing feminist knowledge about social change and continuity.
---
About the Authors:
Dr Lisa Moran is a Senior Lecturer at the Department of Social Sciences, Edge Hill University. She is a Senior Fellow of the Higher Education Academy, UK; a member of the Executive Committee of the Sociological Association of Ireland (SAI) and a former chair of the Qualitative Research Group in Teagasc, the Agriculture and Food Development Authority of Ireland. She is the lead and founder member of the Biographical Narrative and Lifecourse Research Group, an interdisciplinary scholarly network on qualitative research methods with European, US and UK membership. Her current international research collaborations are with colleagues at University College Cork Ireland and ISCTE, Lisbon University Institute, Portugal.
Dr Bernadine Brady is a Lecturer at the School of Political Science & Sociology, NUI, Galway and a Senior Researcher with the UNESCO Child and Family Research Centre at the National University of Ireland, Galway. Bernadine is a mixed methods researcher with a focus on social ecology and young people's wellbeing, exploring how community, school, family, and service provision influence outcomes for young people. Bernadine has particular expertise in relation to youth mentoring, participation, and civic engagement.
Dr Kathy Reilly is a Lecturer in Geography at the Department of Geography, Archaeology and Irish Studies, NUI Galway since 2014. As a second level teacher, she spent time teaching in Essex UK and returned to NUI Galway to complete her PhD. In 2009, she was a Postdoctoral Researcher on a project focusing specifically on issues of educational attainment, achievement, and aspiration among migrant young people. Since 2014 Dr Reilly's research interest in themes across social justice extended. This culminated in community engagement and outreach with the Galway Migrant Forum and Galway Rural Development exploring migrant experiences in Higher Education. She was the Associate Dean (Undergraduate Studies) in the College of Arts, Social Sciences, and Celtic Studies NUI Galway from 2016 to 2020.